Austral Media
Everything you need to know about Austral Distributing
Founded in 1978, Hugh and Don Joy have steadily grown Austral Distributing into one of the largest engine and suspension wholesalers in the country with distribution centres located in New South Wales, Victoria and Queensland. View our video to learn more.
Partnering with Anderson Motorsport
Another season with Anderson Motorsport
We are super excited to announce that we will again be partnering with Anderson Motorsport. For over 5 years now we have been associated with Anderson Motorsport, it has proved to be a winning combination for Wasp Steering and Suspension and the V37 team.
Stay tuned for their race schedule to be released.
AUSTRAL and AJUSA – 25 Years Strong
Celebrating our 25th anniversary with AJUSA
We are proud to have achieved the milestone of our 25 year partnership with AJUSA. Manufactured in Albacete, Spain, AJUSA products include Gaskets, Head Bolts, Valve Lifters and more… These premium quality products meet or exceed OE standards. AUSTRAL are the main Distributor of AJUSA products throughout Australia, having many thousands of references available via our distribution centres.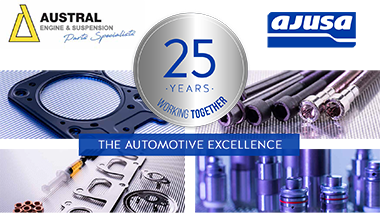 New animated videos from AJUSA
Mechanics and engine components
Ajsua goes one step further in the audiovisual content creation related to its products by creating animated videos that are available on its YouTube channel. In the first 3D video, it shows the function of a head gasket in an internal combustion engine.
AUSTRAL is a proud member of the
Australian Automotive Aftermarket Association